Injeq IQ-Tip®, innovative lumbar puncture technique with CSF detection
Injeq IQ-Tip® spinal needle is a unique product for lumbar punctures. Bioimpedance based detection of cerebrospinal fluid is associated with a substantial reduction of the most common complications related to lumbar punctures.
Smart needle with bioimpedance based tissue recognition
Injeq system performs continuous bioimpedance spectroscopy measurement of tissues that are in immediate contact with the electrodes at the needle tip. The bar graph and the conductivity index shown on the display indicate a relative electrical conductivity of the tissue in contact with the needle tip. The higher the number, the higher the conductivity of the tissue.
Cerebrospinal fluid (CSF) has the highest electrical conductivity of any tissue in the lumbar region. Thus, conductivity index value is high: 85 – 99, when the needle tip is in contact with CSF. Conductivity index values of other tissues, such as blood, muscles and ligaments, are clearly below these values.
Be it noted that the needle tip may be in CSF even though there is no alarm and conductivity index value is less than 85. This is because tissue remnants may mask the needle tip electrode and alter the bioimpedance result. Even then, conductivity index values are typically 70 or higher.
Fat has low electrical conductivity, so the Conductivity Index value is also low: 10 – 20. In addition to subcutaneous fat, there is usually some fat in the epidural space, which may be indicated by the low conductivity index values. If this occurs, the doctor can recognize that the needle tip is approaching the spinal canal and after perforation of dura mater, the CSF detection should occur.
With Injeq IQ-Tip® it is possible to get the puncture right the first time, every time.

This technology was studied with 152 lumbar punctures among acute lymphoblastic leukemia (ALL) children
The observations from this study show good first puncture success rate and remarkably low incidence of post-dural puncture headache (PDPH) – only 6% (2) – compared to conventional Quincke type needles with 28 % (1) or pencil-point needles with 11% (1) incidence reported in the same-size 22G needles. See the graph on the right.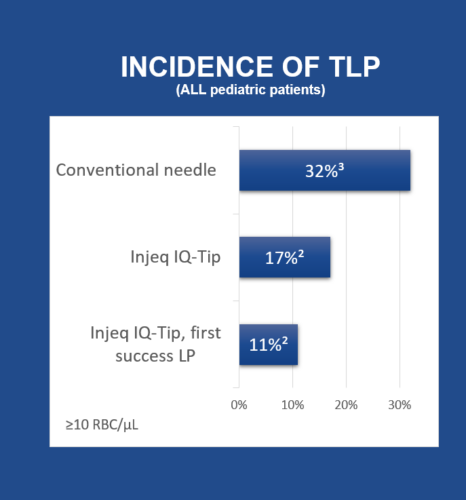 IQ-Tip system is associated with significantly lower incidence of traumatic lumbar punctures (TLP) compared to conventional needles observed in the register-based reference data3.
In the study by Långström et al., only 17% of lumbar punctures were traumatic according to the strictest criterion of <10 RBC/μL in the CSF sample. This result compares favorably to a large register-based study3 reporting 32% incidence in pediatric hemato-oncological patients.
Nath et al. review article 2018. Atraumatic versus conventional lumbar puncture needles: a systematic review and meta-analysis. Lancet 2018
Långström et al. 2022. Bioimpedance spinal needle provides high success and low complication rate in lumbar punctures of pediatric patients with acute lymphoblastic leukemia. Scientific Reports, 2022.

Sievänen, H., et al. 2022. Traumatic lumbar punctures in diagnostic and intrathecal treatment punctures of pediatric hemato-oncology patients, Pediatric Hematology and Oncology, 2022
The latest Injeq news and activity
"Traumatic lumbar punctures are especially problematic, since they may introduce leukemia cells from blood to the central nervous system."
Because Every Procedure Matters
Knowing that the needle tip is in the right place, you can avoid repeated, inconvenient punctures. Not only for patients with leukemia but also for newborn babies to whom lumbar punctures are particularly challenging.
Avoiding unnecessary needle movements in spinal area with low incidence of blood-contaminated CSF samples
Only 6% incidence of post-dural puncture headache – among the lowest incidences reported with the same-size needle of any type.
Enabling technology for further applications.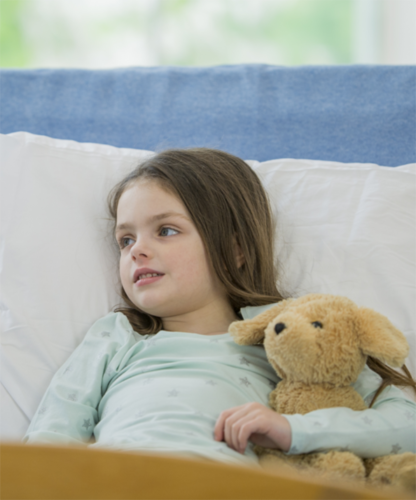 Injeq Oy Shares Have Been Transferred to Finnish Book-Entry Securities System – Instructions for Shareholders
Read more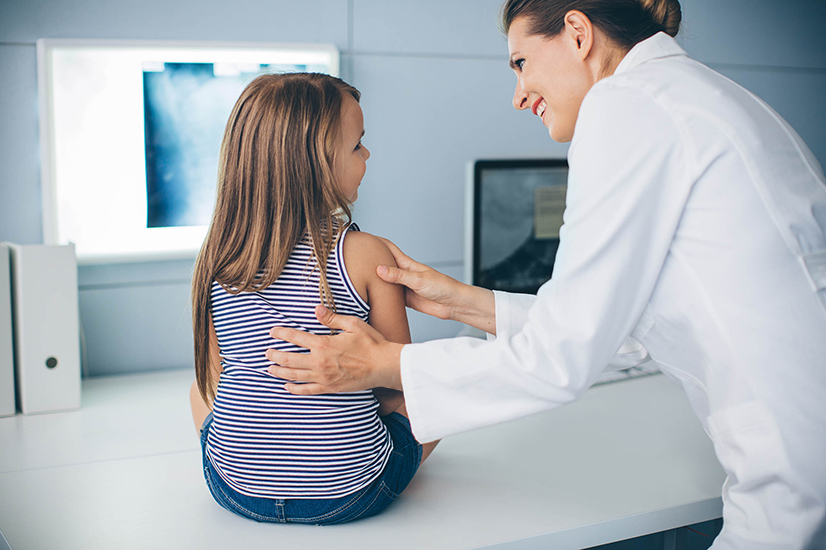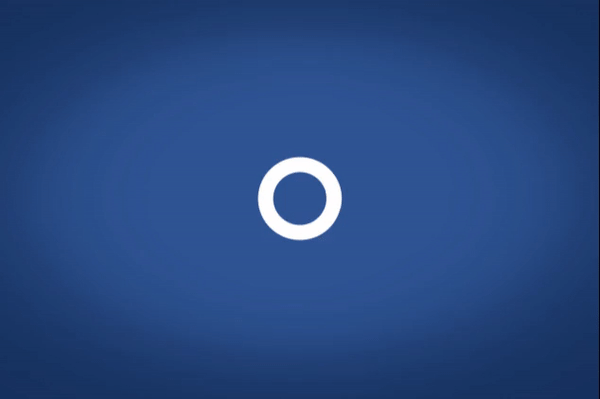 About us
Injeq was founded when a group of experts in the fields of technology and medicine identified a solution for a well-known medical need – to make lumbar punctures safer and more precise. The vision of a digital needle was further developed to a fully-formed idea, and from there to clinical research at neonatal intensive care units and pediatric oncology departments.
Now Injeq has a clinically proven product  on the market, based on unique, tried and tested technology. Injeq IQ-Tip® spinal needle is the leading product in its field, offering safe and smooth procedures through real-time information.
Our staff consists of professionals with expertise in a wide range of fields, including medical research, signal processing, clinical research, European regulation, and various areas of production, quality assurance and corporate management.
We have an active corporate board of experts who support the operational organization and participate actively in company development.
The main benefits of our digital, navigating spinal needle – low incidence of blood-contaminated CSF samples, low incidence of post-dural puncture headache, and high success at the first attempt – are what we want to offer our clients.
Injeq IQ-Tip® products are designed and manufactured to meet the requirements of the European Medical Device Regulation (MDR 2017/745). As a medical device manufacturer, Injeq applies standard ISO 13485:2016 in its quality system. IQ-Tip® needle received CE approval by TÜV SÜD PS (0123) on December 21, 2021 and the innovative Injeq IQ-Tip® system is now available in the European market.